Electronic control panel
The electronic panel concentrates in a single device, to be integrated in the checkout counter, the entire electronic control of motors, photocells and signal lamps.
The box has been properly sized to be placed in an ergonomic position of the checkout counter. It is fastened with two screws placed on the sides of the front panel.
The membrane keyboard uses intuitive graphics to facilitate daily operations of the users. Selection of a function by means of a button is confirmed by the appropriate LED.
The upper cover of the board is divided into two areas: the front one to protect the electronic card and the rear one to collect all the terminal boards necessary to connect to the electrical devices of the checkout counter.
The board is powered with mains voltage and is supplied with cable with Schuko plug.
Two models are available depending on whether the checkout counter is equipped with one or two motors.
UNIVERSAL I: electronic control box for single belt checkout


Characteristics

Description
Control panel:
The control interface of the electrical panel has a membrane keyboard with 5 keys and 7 LEDs.
Selections:
The motor and indicators operation mode is set by the installer through a dip switch placed on the electronic card.
Photocells:
The board is designed to control a pair of photocells selected between the model XGR250, available as an accessory, or you can connect a 12V NPN commercially available photocell or also an auxiliary photocell.
Motor:
The board manages a motor to control a conveyor belt and has a 6.3 µF capacitor, housed inside the cover. The motor to control must be equipped with NC thermal protection and powered by mains voltage of 230Vac with max. 0.37kW.
Pedal:
The board has inputs to connect a pedal with NO clean contact.
Indicator lamp:
Up to 3 lamps powered by mains voltage of 230Vac of max. 60 W cd each can be connected to the board.
It is also possible to connect up to 3 LED strips powered with 12V for a maximum of 350mA total.
Aux. output:
The AUX output supports a changeover switch (clean) at 230Vac with maximum current of 1A.
Power supply voltage
The board is powered by mains, 230 Vac 50Hz // 5° and is supplied with a cable of 150cm with Schuko plug.
Container:
The container is plastic, with IP4X and IP65 protection on the front side.
Connections:
Removable terminals for cable max. 1.5 mm2 and mains lead with Schuko plug.
Dimensions:
Box: Height: 52 mm. Width: 180 mm. Depth: 188 mm.
Front panel: Height: 60 mm. Width: 220 mm. Depth: 3 mm.
Weight:
1400g.
Directives and Standards:
The product complies with general product safety directive 2006/95/EC, EMC 2004/108/EC and ROHS 2002/95/EC, with application of specific standards to which it is subject
UNIVERSAL II: electronic control box for two belts checkout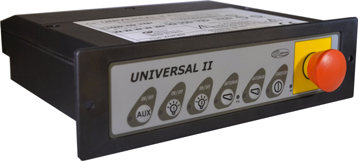 Characteristics

Description
Control panel:
The control interface of the electrical panel has a membrane keyboard with 6 keys and 8 LEDs.
Selections:
The motor and indicators operation mode is set by the installer through a dip switch placed on the electronic card.
Photocells:
The board is designed to control a pair of photocells selected between the model XGR250, available as an accessory, or you can connect a 12V NPN commercially available photocell or also an auxiliary photocell.
Motors:
The board manages two motors to control two conveyor belts and has two 6.3 µF capacitors, housed inside the cover. The motors to control must be equipped with NC thermal protection and powered by mains voltage of 230Vac with max. 0.37kW each.
Pedal:

Shelf:
The board has inputs to connect two pedal with NO clean contact.

There is an input to connect the lifting of the rear shelf with NC clean contact by a micro switch or a proximity sensor.
Indicator lamp:
Up to 3 lamps powered by mains voltage of 230Vac of max. 60 W cd each can be connected to the board.
It is also possible to connect up to 3 LED strips powered with 12V for a maximum of 350mA total.
Aux. output:
The AUX output supports a changeover switch (clean) at 230Vac with maximum current of 1A.
Power supply voltage
The board is powered by mains, 230 Vac 50Hz // 5° and is supplied with a cable of 150cm with Schuko plug.
Container:
The container is plastic, with IP4X and IP65 protection on the front side.
Connections:
Removable terminals for cable max. 1.5 mm2 and mains lead with Schuko plug.
Dimensions:
Box: Height: 52 mm. Width: 180 mm. Depth: 188 mm.
Front panel: Height: 60 mm. Width: 220 mm. Depth: 3 mm.
Weight:
1400g.
Directives and Standards:
The product complies with general product safety directive 2006/95/EC, EMC 2004/108/EC and ROHS 2002/95/EC, with application of specific standards to which it is subject